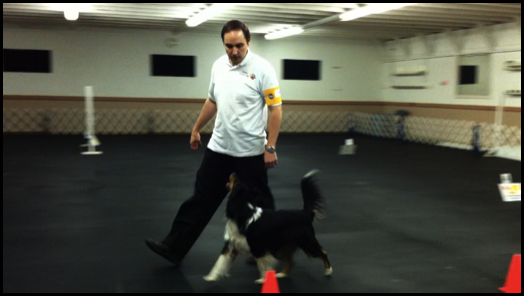 Jacob is a Karen Pryor Academy (KPA) Certified Training Partner (CTP), Teamworks Certified Dog Training Instructor, Certified Trick Dog Instructor (CTDI), All-Star Performance Dog Team Captain (All-Star-TC), an active full member of the Association of Pet Dog Trainers, a professional member of the Behavior Education Network, and a graduate of the Karen Pryor Academy for Animal Training and Behavior.

Jacob began training animals in the 1980s, gaining early experience and instruction on his family's farm, while growing up in North Florida. He took his first dog training class twenty years ago; and has since continued to learn about dog behavior and training through classes, seminars, and hands-on instruction.

In addition to his affinity for animals, Jacob is also skilled at teaching people. He is a licensed minister with 14 years of experience—seven years working with youth and seven years working in church media. He has a passion for helping others and draws from his training and experience to develop creative and compassionate solutions to training problems.


For more details on Jacob's qualifications, explore the other tabs on this page (some are organized with collapsible sub-sections, click each to expose its content).

Jacob uses positive reinforcement based training to cultivate the trust and communication necessary for better relationships between people and dogs. He believes in communication for both ends of the leash.

He embraces a holistic view of training that transcends problem solving; it uses force-free methods to develop effective communication, accelerate learning, strengthen mutual respect, and encourage a lifelong bond.
Overview
Jacob uses force-free training methods that are based in the science of Applied Animal Behavior. These methods are effective for teaching and changing behavior; and of equal importance, they make training fun for both dogs and people.

Jacob specializes in "Clicker Training." He is a graduate of the prestigious training program at the Karen Pryor Academy for Animal Behavior and Training where he received advanced instruction from the foremost experts in this often misunderstood method.
For more about this technique, click the heading below.
Clicker Training
Clicker training uses a distinct sound to communicate to the dog exactly when she does what you're looking for, and then you make it work for the dog by following the click with a reward she enjoys (such as treats). It was developed by laboratory scientists, made popular by marine mammal trainers, and has been successfully applied to almost all species.

This type of operant training works because the animal quickly learns desired behaviors through clear communication and generous positive reinforcement. It fosters a team effort that builds mutual respect and results in an animal that enjoys learning and responds with enthusiasm. Clicker training also teaches the dog to become a thinking participant in the training process and results in a confident dog with greater creativity and initiative. Dogs familiar with this method can learn new behaviors quickly and have long term recall of what they have learned.

Jacob is skilled in basic and cutting edge advanced clicker training techniques; such as: micro-shaping, complex behavior chains, targeting, fluency, and compound and modifier cues.
Watch the video clip above for a brief introduction to Clicker Training.
Certifications
Karen Pryor Academy Certified Training Partner (KPA-CTP)
Certified Trick Dog Instructor (CTDI) – by "Do More With Your Dog" and the Trick Dog Trainers Association
All-Star Performance Dog Team Captain (All-Star TC)
Teamworks Certified Instructor
TAGteach Primary Certification (pending)
Professional Affiliations
Karen Pryor Academy Alumni Association—Premium Member
Association of Pet Dog Trainers—Full Membership—APDT #78374
Behavior Education Network (of Animal Behavior Associates)—Pro Member
Vocational Training
Karen Pryor Academy for Animal Training & Behavior, Professional Dog Trainer Program (Graduated with distinction, February 2012)
TAGteach Primary Certification Course (completed in August 2011 with a score of 99%)
Conferences, Seminars, Webinars, etc. (Professional events that offer CEU's)
-2012
Lateral Training: Working With Another Species (webinar) – Terry Ryan
Advanced Clicker Training – Kathy Sdao
101 Dog Tricks (Tawzer Conference Video) – Kyra Sundance
-ClickerExpo 2012
(Nashville, TN)
Changing Our World View – Karen Pryor
What to Do When Mistakes Happen – Ken Ramirez
Generalization: Scientifically Explored – Jesús Rosales-Ruiz
Component Training: Piece Together Success – Alexandra Kurland
1+1=3: Adduction & Combining Cues – Ken Ramirez
Adduction (working lab) – Ken Ramirez
Aggression Treatment and Context – Ken Ramirez
Expert Panel Discussion
How Complex Behavior is Built from Very Simple Components – Clive Wynne
Launch! KPA-Style Class Implementation (teaching modular classes) – Helix Fairweather
Smart Reinforcement – Ken Ramirez
Conditioning Non-food Reinforcers (working lab) – Ken Ramirez
Smart Start: Training Top Agility Starts – Eva Bertilsson & Emelie Johnson Vegh
Current Research in Canine Cognition – Clive Wynne

-2011
Stress and Fear: Signs, Causes, and Preventative Measures (webinar) – Jeff Wise
Dog Training: Achieving Fluency (webinar) – Steve White & Gail Fisher
Holistic & Complementary Healthcare (APDT webinar) – Don Hanson
Canine Body Language and Communication (webinar) – Susan Briggs
Using TAGteach to Increase Skill Acquisition and Motivation for your Human Clients (webinar) – Theresa McKenon
Introduction to TAGteach (Primary Certification course – score of 99%)
Modular Dog Training Classes (webinar) –Terry Ryan & Lisbeth Plant KPA-CTP
Update on Separation Anxiety – Drs. Suzanne Hetts & Dan Estep
Bite Threshold Model for Understanding Canine Agression – Kathy Sdao
Improve Your "I-CUE": Learn the Science of Signals – Kathy Sdao
Coaching People to Train Their Dogs – Terry Ryan

-2010
-APDT Atlanta 2010
(Onsite + All Recordings)
The Umwelt of the Domestic Dog: Imagining the Dog's Point of View - Alexandra Horowitz
The Wow & How Factor - Victoria Stilwell, Kyra Sundance
Are You Thinking What I'm Thinking? And Introduction to the Central Questions in Cognition and Emotion in Dog Behavior - Patricia McConnell
The Origins of the Scientific Study of Puppy Love - Clice Wynne
New Discoveries About Dogs' Understanding of Humans - Monique Udell
When Human-Canine Realities Collide: Human/Canine Cognition and Emotion as These Relate to Problem Canine Behaviors - Myma Milani
Panel Discussion - McConnell, Milani, Udell, and Wynne
The Dog Vinci Code - Decoding Your Dog's Behavior - John Rogerson
Testing, Observing & Evaluating - Suzanne Clothier
Making the Leap from Pet Training to Dog Sports Competition Training - Laurie Williams
Knowledge is Power: Applied Research on Dog Training and Behavior - Margaret Slater
Turning the Tide - John Rogerson
Dogs & Dominance: An Ethological Perspective - Pamela Reid
The Evolution of the Cognitive Dog - Brian Hare
Teaching Dog Bite Prevention to Kids - Lauren Fox
Advanced Lure Reward Training: Off Leash Verbal Control without the Continued Use of Food - Ian Dunbar
Diagnosis and Treatment of Dominance Aggression - Kristen Collins
Canine-Assisted Play Therapy - Rise VanFleet
What Can Behavioral Science Do for Dog Trainers? - Nicole Dorey
Challenging Adolescents - Trish King
A Dog is a Terrible Thing to Waste: Behavior Problems and Solutions - Pamela Reid
Family Friendly Dog Training - Rise VanFleet
Dealing with the Alpha - Trish King
Putting Publications to Work for You - Margaret Slater
What's the Name of the Game - Lauren Fox
Damaged Goods: Working with Puppy Mill Dogs - Kristen Collins
How Veterinary Behaviorists and Trainers Can Work Together - Barbara Sherman
Treat/Retreat: Using Autonomy and Safety to Create Confidence and Skill for the Shy/Fearful Dog - Suzanne Clothier
Canine Cross Training Classes: Beyond Sit, Down, Stay and Come - Leslie Nelson
Making Your Night Job Your Day Job - Veronica Boutelle
Who is Watching the Kids? Learning HOW to Supervise - Colleen Pelar
Using Humor Effectively to Enhance Your Group Classes - Laurie Williams
But He Can Do It at Home - Jean Owen
A Look at the Emotional Lives of Animals - Temple Grandin
Go the Distance - Finishing the Job for "Real Life" Reliability - Gail Fisher
Improving Agility Handling Skills with Only One Jump - Jean Owen
Veterinary Use of Behavioral Drugs - Barbara Sherman
K9 Nose Work - Amy Herot, Jill Marie O'Brien
-APDT 2010 – Practicum:
6 hour Working Seminar using naive dogs from a local shelter: Canine Cross Training - Leslie Nelson

-APDT 2009
: (Recordings)
• Basic Clicker Training - Kathy Sdao
• Identifying Triggers and Resolving Fear – Kathy Sdao
• Get Smart – Kathy Sdao
• A Conversation with Bob & Jean – Bob Bailey & Jean Donaldson
• Client Buy In – Pia Silvani
• Fear and Loathing & Seperation Fun – Ian Dunbar
• Pet Dog Training – The Absolute Basics – Ian Dunbar
• Training a Thinking Dog…Marker Training – Gail Fisher
• Training the Behaviors Students Want Most… - Gail Fisher
• Problem Solving for the Real World – Steve White
• Trainers' Untrained Dogs – Steve White
• Anticipation: Harnessing It's Power to Attain Exquisite Control & Reliability – Steve White
• Is Good Help Hard to Find? – Teoti Anderson
• Inspiring Dog Owners Into Dog Sports… - Sue Stemberg
-APDT 2008
: (Recordings)
• Relationship Centered Training – Suzanne Clothier
• Are You Seeing What I'm Seeing? – Sophia Yin
• What Zookeeping Teaches Us About Training With Positive Reinforcement – Grey Stafford
• The Spice of Life: Keep Clients Coming Back – Lauren Fox
• Successful Class Training – Pia Silvani
• Conditioned Reinforcement – Jennifer Sobbie
-APDT 2007
: (Recordings)
• Conceptual Learning – Pamela Reid
• Owner Compliance – Trish King
• Cueing Demystified – Kathy Sdao
• Mission Review – Kathy Sdao
• Update on Behavioral Genetics and Treatment _ Karen Overall
-APDT 2006
: (Recordings)
• Clicker Training and The Pet Owner - Karen Pryor
• A View from the Bridge - Karen Pryor
• Training 101: The Practical Side of Science – Ken Ramirez
• Variety, Variability & Creativity – Ken Ramirez
• Drive: Building Controlling & Maintaining It – Susan Garrett
• Click to Calm – Emma Parsons
• I Was Lured – Ian Dunbar
• Taking A History – Nicole Wilde
-APDT 2005
: (Recordings)
• Teaching So Your Students Will Listen – Donna Duford
• Animals In Translation – Temple Grandin
• Problems with Single Trait Selection – Temple Grandin
• "Nothing in Life is Free": A Kinder, Gentler version of Dominance? Kathy Sdao
• How Buffy Learns and How Best to Teach Him – Terry Ryan
• Working With Clients Based on their Personality Type – Kimberly Barry
• Shaping Without Tears – Nina Bondarenko
• The Holistic Handler – Nina Bondarenko
• Dirty Dogs Done Dirt Cheap – Steve White
• Body Language – Suzanne Clothier
-APDT 2004
: (Recordings)
• Candy is Dandy but a Clicker is Quicker - Kathy Sdao
• Training In The Real World – Kathy Sdao
• Reinforcement: Premack Principle – Kathy Sdao
• Genes and Behavior – Temple Grandin
• How Animals Think and Feel – Temple Grandin
• Both Ends of the Leash – Patricia McConnell
• Developing Your Classes Curriculum – Pat Miller
-APDT 2003
: (Recordings)
• Instruction Skills: Custom Classes for your Community – Terry Ryan
• Clicker Training with Shelter Dogs in an Urban Environment – Terry Ryan
-APDT 2002
: (Recordings)
• Anticipation: Using Counter Conditioning and Behavior Chains… - Donna Duford
• Biggest Mistakes I Ever Made… - Steve White and Patricia McConnell
• In Search of the Holy Grail – Steve White
• The Science Behind Behavior and Behavior Modification – Sophia Yin
-APDT Multiyear Research Library
: I have worked through a wide range of topics from this resource.
Journals (relevant to dog training)
• The Whole Dog Journal (2006- Present)
• The APDT Chronicle of the Dog (2010- Present)
• AKC: Family Dog (2006-2007)
• AKC: Gazette (2006-2008)
• Sheltie Pacesetter (2006-2008)
• The Sheltie International (2006-2008)
• Psychology Today (2000-2004)
Internet Groups
• APDT List
• Certified Trick Dog Instructor
• Clicker Competitive Obedience
• ClickerExpo
• ClickerSolutions
• Clickertraining.com newsletters
• ClickSport
• ClickTeach
• CU_Dogs
• Dog Behavior Science
• Dog Obedience
• DogHealth
• Frond and Finish
• Good Dog Training
• K9Connections
• K9infocus
• Karen Pryor Academy Alumni
• Pos-4-ReactiveDogs
• Rally-obed
• researchingTAG
• shy-k9s
• TAGteach
• Teamworks - Instructor Group
• Teamworks - Student Group
• TreatnTrain
• TrickDog
• Truly Positive
• (various dog health and nutrition groups)
Dog Training Books Read (2006-Present, partial list)
Dog Training Instructional Videos
• Best of 101 Dog Tricks - Kyra Sundance
• Clicker Puppy
• Clicker Training: The 4 Secrets of Becoming a Supertrainer – Koeste & Egtvedt
• Control Unleashed (DVD Foundation Seminar) - Leslie McDevitt
• In Focus: Crying For Control - Deborah Jones
• In Focus: Foundation Work - Deborah Jones
• Puppy Kindergarten
• Take A Bow Wow (1 & 2)
• Beginning and Intermediate Dog Training – Paul Owens
• The How of Bow Wow
• The Shape of Bow Wow
• Train Your Dog - The Positive Gentle Method - Nicole Wilde, Laura Bourhenne
• http://www.youtube.com/user/JBHollingsworth (see recommended pages)
Group Classes, Instruction, and Coaching with Personal Dogs
-1990's
• Private Training
• Obedience 1, 2, & 3 - Santa Fe Community College & University of Florida -Community Education

-2006 - 2010
• Basic Manners - Sylvie Pleasant, K9 Solutions
• Competition Coaching (4 Sessions)- Leslie Carpenter, TLC Dog Training (CPDT, NADOI)
• Distraction Proofing - Susan Krieg, Teamworks
• Rally 1 & 2- Christie Canfield, Teamworks (CPDT)
• CGC Out on the Town - Mandy Baker, Teamworks (CPDT, performance championships)
• Therapy Dog - Christie Canfield, Teamworks (CPDT)
• Tricks & Acting 1, 2, & 3 - Mary Jo Sminkey, Teamworks (multiple performance championships & TV appearances)
• Correspondence with Kyra Sundance on Trick Training and Instruction
• Competition Foundations (3 Sessions) - Hannah Branigan, Wonderpups (KPA-CTP, CPDT)
• Obedience Coaching (3 Privates) - Hannah Branigan, Wonderpups
Other Relevant Animal Experience and Education
• Animal Sciences 1-4 – JoAnn Brady, Santa Fe High School (1994-1998)
• Teacher's Aid – Billy Farrell, Large Animal Vet Tech Class & Lab (1997-1998)
• Raised, Trained, & Showed 3 Show Pigs for Youth Fairs (1996, 1997, 1998)
• Join Up with Monty Roberts – Seminar on Horse Training (2001)
• Have worked with: Horses, Cattle, Goats, Chickens, Quail, Cats, a Ferret, etc.
• Manager & Caretaker of a Hobby Farm with 22 Quarter Horses after my grandfather died (2001-2002)
• Many Undergraduate (BA) and Graduate (MA) level Psychology Courses
• Collaboration with Kyra Sundance and other CTDI's to formulate Trick Dog Champion title criteria
Accomplishments of Current Pets
-Chara
(Sheltie) 2006 – present
Name & Titles: TDCH Shadow Hill Chara Tes Zoes RA CGC CCT ETD AST
AKC Canine Good Citizen (CGC)
Certified Therapy Dog: Carolina Canines for Therapy (CCT)
AKC Rally Novice [Legs: 2nd Place, 1st Place, 2nd Place] (RN)
AKC Rally Advanced [Legs: all 1st Place] (RA)
1st Place Leg toward AKC Rally Excellent Title
AKC Rally scores average in the 90's
Novice Trick Dog (NTD)
Intermediate Trick Dog (ITD)
Advanced Trick Dog (ATD)
Expert Trick Dog (ETD)
Trick Dog Champion (TDCH)
Dog tricks & clicker training demonstrations
2012 All-Star Performance Dog Team (AST)
-
Kitty
(Cat) 2011-persent
Novice Trick Dog (NTD)
Intermediate Trick Dog (ITD)
Advanced Trick Dog (ATD)
Formal Education
• Piedmont International University, Postgraduate studies 2010-11
• Southeastern Baptist Theological Seminary, M.A., December 2009
• The Baptist College of Florida, B.A., May 2003
• Santa Fe High School, (College Prep track & Vocational Animal Sciences Track with Honors) Alachua, FL, 1998
Student Accomplishments
• Jacob has helped several dog & handler teams successfully prepare for Rally Obedience Titles, Trick Dog Titles, and Therapy Certifications. More importantly, his students (human and dog) have learned to communicate more effectively and have developed stronger mutual bonds.
And...
…continuing to learn at every opportunity!